Everything you need to know about Roadmap's product success platform, workflow, and features.
These resources will help you understand how you'll use Roadmap to create team alignment, track user feedback, engage users, and increase innovation.
We also included answers to questions we hear from new customers. Didn't find what you're looking for? Get in touch.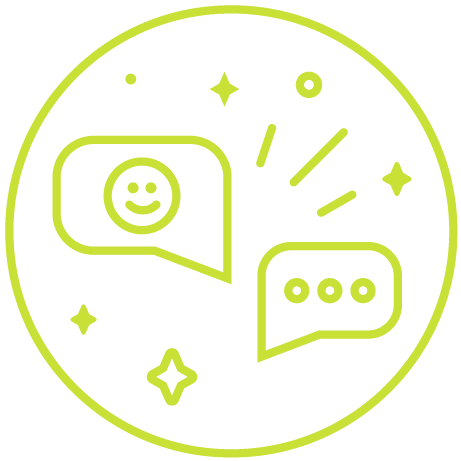 Feedback
Centralize product feedback from INPUT channels. Create meaningful insights and automate follow-ups to increase engagement with users and teams.
How do I centralize feedback with Roadmap?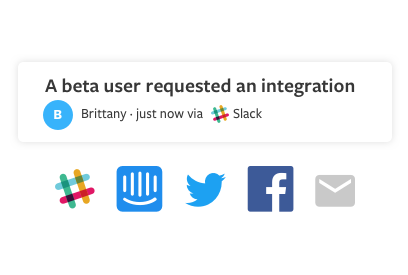 Can I use Roadmap to track feature requests and bugs?
Roadmap helps you track and communicate with stakeholders who are interested in product outcomes over time. You can use tags, custom fields, and subscriber notifications to create flexible workflows for different types of product development.
If you're tracking feature requests or bugs in other systems, such as JIRA, GitHub, or Trello, you can set up automated workflows with our integrations. Custom settings allow you to keep those practices in place, but still track, measure, and communicate with Roadmap.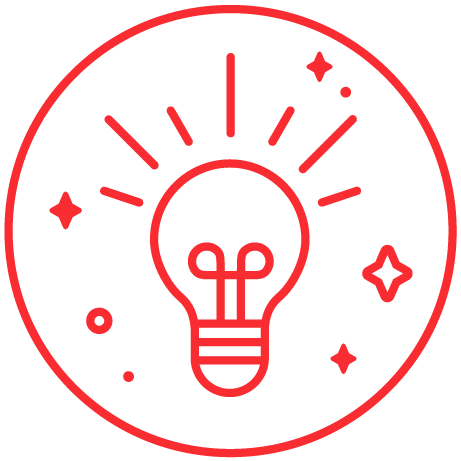 Ideas
Ideas are the building blocks of Roadmap. Ideas, together as the backlog, help you prioritize and segment ideas, so your backlog stays prioritized.
Ideas help you answer the question: "What should we do next?"
What is an idea?
An idea is typically more narrow than a sprint or epic. Ideas could be a feature, a project, or even a bug. You can create different workflows around ideas with tags, custom fields, teams, objectives, and more.
Merge feedback to ideas, add ideas to stories, and complete ideas right from the backlog.
Ideas can be synced with other project management tools like JIRA, Trello, and GitHub. Customize your integration workflow in Settings.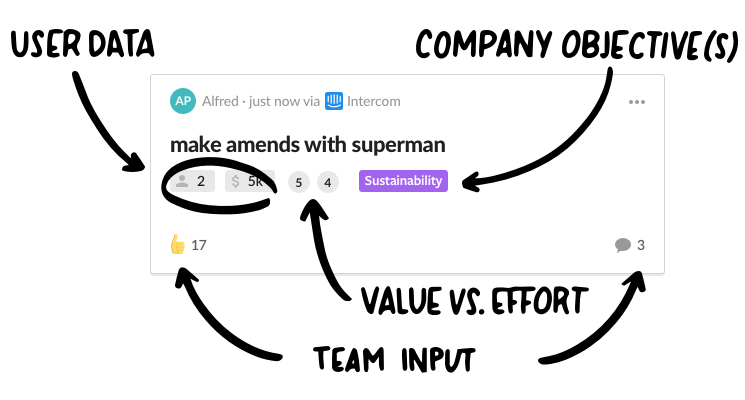 How do I merge feedback to ideas?
When new feedback comes in, the goal is to get to inbox zero by merging feedback to an existing idea, creating a new idea, archiving, or deleting. As you reconcile feedback you start to build user groups and accumulate aggregate data such as the total monthly recurring revenue (MRR) associated with an idea. Automatic subscriber notifications can be turned on to increase engagement throughout this workflow.
How does 'magic ' help me prioritize my backlog of ideas? ✨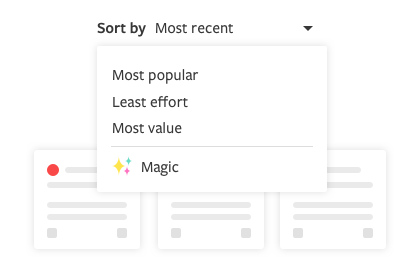 Ideas are the building blocks of Roadmap. Ideas help you prioritize your backlog and create user groups over time. Magic is our way of helping your ideas prioritize themselves.
Magic sorts by ideas that have:
a low degree of effort / a high degree of value
the most revenue (MRR)
the most subscribers
the most internal likes and comments from your team
Further segment the magic filter by objectives or create dynamic searches with tags, teams, and keywords.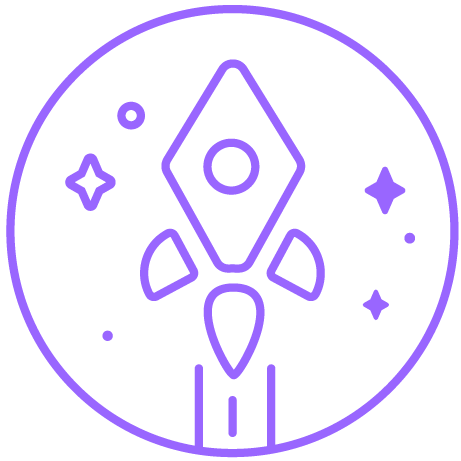 Stories & Roadmaps
Plan and communicate sprints with stories and roadmaps. A roadmap is a collection of stories that can be public or private.
Customize the design and embed a public roadmap directly to your app for users to engage with.
How do users engage with my public roadmap?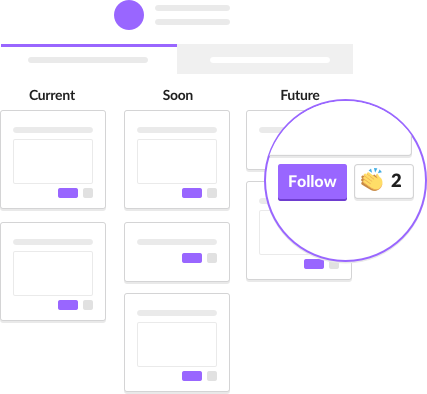 Users can clap or follow a story on your public roadmap. If a user follows a roadmap story, they are added as a follower. If you're tracking revenue (MRR), their revenue will be added to that story.
See who is clapping and following your stories via the activity feed or Slack notifications. Each user's profile also gives you a summary of historical feedback and engagement. We recommend adding your public roadmap directly to your web app.
What happens when I move an idea to a story?
When you add an idea to a story, anyone following that idea will be merged into a single list in the story. When you're creating a story, think about how ideas are related to each other by a theme or commonality.
For example, if we had a story about improving our public roadmaps, it might include several ideas related to the public roadmap. Combined we know that everyone following that story cares about outcomes related to public roadmaps.
Ideas that are synced with other project management tools like JIRA or GitHub will help you track high-level progress on your stories when work is completed in other systems.
How do I add my public roadmap to my app?
There are two ways to share a public roadmap.
On a marketing site such as WordPress and/or
Directly to an app (recommended)
Once you've customized your design and decided where your roadmap will live in your app or internal software, it should take about 10 – 20 minutes for someone with access to your web app to install. Here are the instructions.
Our team is here to help with this!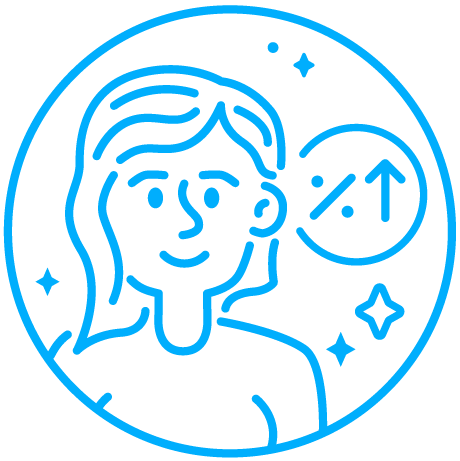 User Platform
The user platform tracks feedback and engagement from users in your web app.
Add unique user attributes from your app, tag users, and engage users throughout Roadmap via notifications and email.
Why are users on the platform limited with each plan?
Each Roadmap plan comes with a certain amount of users. You can track feedback from users over time and track their engagement with your roadmap.
Free – up to 150 users
Starter – up to 750 users
Pro – up to 3,000 users
Enterprise – up to 10,000 users
You can engage and track users throughout Roadmap. Need more than 10,000 users? Learn more about pricing.
What's the difference between people and members on my team?
A user is typically an external stakeholder such as a user from your web app, a visitor on your public roadmap, or anyone who isn't part of your organization that has shared feedback with you.
Collaborators from your organization invited to Roadmap are either Admins, Managers, or Team Members. Team members are free and unlimited. Team members do not count toward user limits for each plan.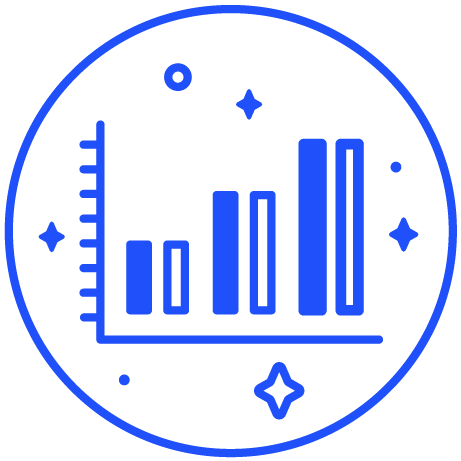 Dashboard
The dashboard centralizes important happenings across Roadmap. Use the dashboard to understand and access insights across feedback, ideas, and stories.
What does the engagement graph show?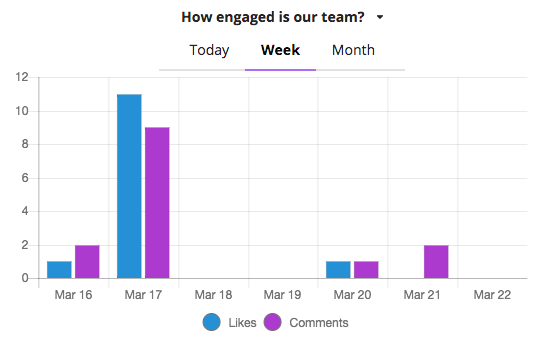 The engagement bar graph shows how engaged users are by tracking how much they clap for stories and how often they follow stories, feedback, or ideas.
The engagement bar graph also shows how engaged your team is by tracking how often they like ideas and leave comments in Roadmap.
Why should I care about my roadmap or backlog being balanced?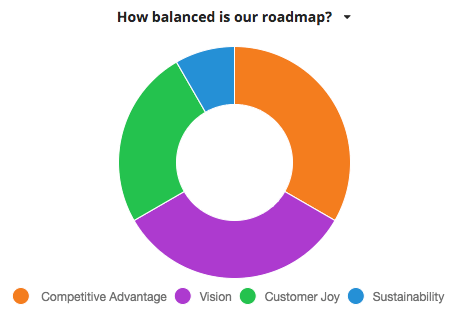 The pie graph shows you how balanced your objectives are on your roadmap vs how balanced they are on your backlog. This graph helps you understand how your core business goals are represented on your roadmap and backlog.
How is "What should we work on next" determined?
What you should work on next is determined by the 'Magic
' filter from your backlog. This filter looks across all of your ideas to identify ideas that should be prioritized. The magic filter prioritizes ideas that have (1) the most followers (2) a high degree of effort, low degree of value (3) the most MRR (monthly recurring revenue) and (4) the most internal likes and comments from your team.