Feedback and feature requests come in from all channels, especially Intercom. Send user feedback from Intercom conversations directly to Roadmap or "+1" a user to an existing idea with the Roadmap and Intercom integration.

With the Roadmap and Intercom integration, ideas, feedback, and follow-ups don't fall through the cracks and you don't have to worry about endlessly tagging Intercom conversations.
Sometimes feedback is similar to things you're already working on or feedback that's come up before.  "+1" a user to an existing idea based on their feedback from Intercom. Understand how in-demand requests are. The Intercom icon attached to user feedback in Roadmap takes you back to the original Intercom conversation.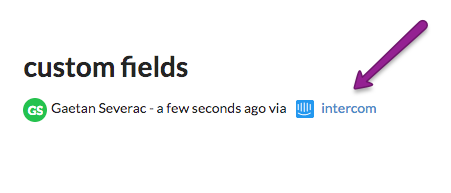 Pro Tip! Enable 2-Factor Authentication with Roadmap before connecting to Intercom. Enable 2-FA for your organization in Account –> Settings.
Enable the integration from your Roadmap account. Click on Settings –> Integrations –> Connect. Authorize Roadmap to connect to your Intercom account. That's it!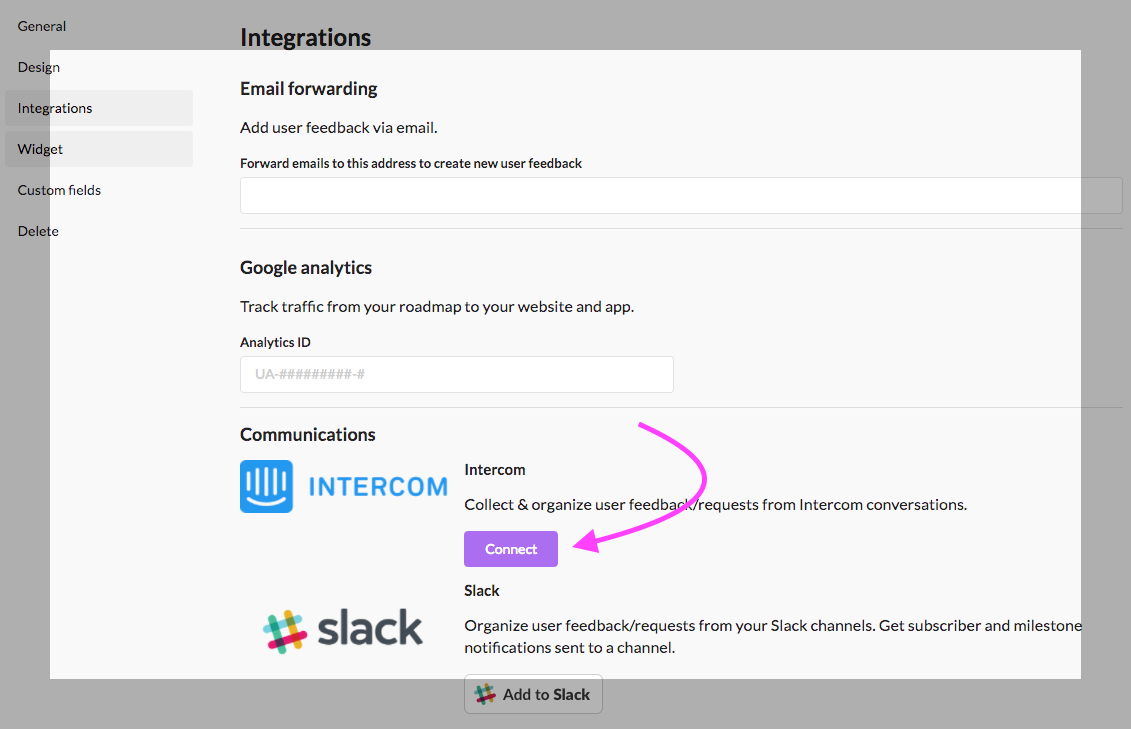 When you're having a conversation with a user in Intercom and they share feedback such as "Hey, we're wanting to add custom fields" or "I'd love if we were able to export our reports" – you want to make sure to log their feedback for the product team and have a process to re-engage those users. The Intercom integration with Roadmap lets you do just that.
To create new Feedback from an Intercom conversation, add a Note to the conversation using the Roadmap command: /roadmap
Format:
/roadmap [summary of feedback]
Example:
/roadmap the ability to create custom fields
Once you submit the note, Roadmap creates new user feedback for your product team to review. The user from Intercom is automatically added as a subscriber and will be notified once there is progress with their feedback.
How to "+1" a User to an Existing Idea or Roadmap Story From Intercom Conversations
When your team receives feedback similar to ideas in the backlog or stories already on the roadmap, you have the option to "+1" a subscriber. By adding subscribers to existing ideas and stories, product teams understand how 'in-demand' requests are and have groups of stakeholders they can communicate with for user interviews, beta testing, and more.
To add a subscriber to an existing idea or story from an Intercom conversation, open Notes in that conversation and type 2 or 3 matching keywords from the idea or story title. For example, if you had an existing idea or story on your roadmap called "Expanding the Salesforce Integration" you could add a subscriber using the command:
/roadmap Salesforce integration
Roadmap matches subscribers to existing ideas or stories using 2 or 3 matching keywords in a string, so "Salesforce integration" would match whereas "Integration with Salesforce" would create new feedback.
Note: Be sure to include your Intercom first and last name in your Roadmap user profile. Syncing usernames keeps team members in the loop when there is progress on their feedback. It's especially important if you want to notify your team members about following up with customers or leads. Edit these settings in Roadmap via Account –> Profile.
Feedback ❤️
Love to use Roadmap & Intercom together? Have some ideas to make this integration even better? We'd love to hear from you!