The Roadmap and Intercom integration is LIVE and we're already using it to manage feature requests and user feedback from Intercom.
Our team uses Intercom to communicate with users for support via their in-app messenger and via email campaigns. As a result, we get a lot of user feedback and feature requests via Intercom. The Intercom integration with Roadmap helps us leverage user feedback to understand how in-demand feature requests are and make sure we're following up with our users about their ideas.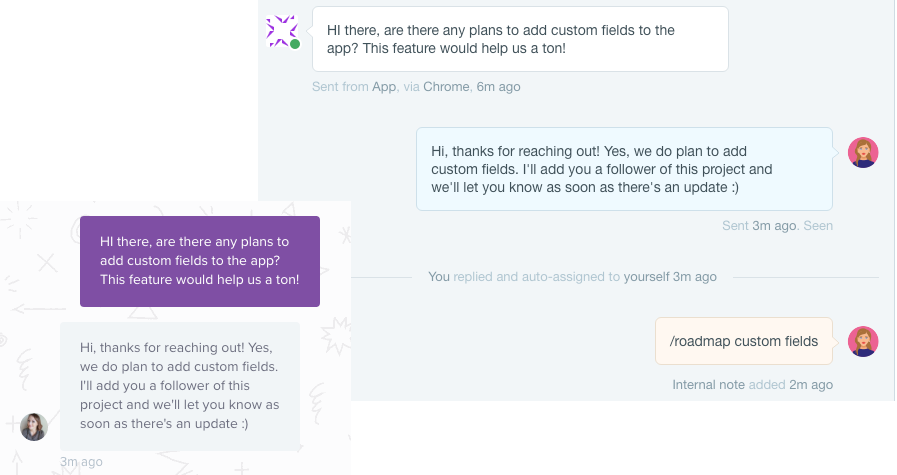 How it Works
The Roadmap and Intercom integration lets you create actionable feedback for your product team to review in Roadmap, right from your conversation notes in Intercom.
Whenever a user submits a feature request or shares feedback during a conversation in Intercom, support teams save time and stay focused by not having to switch contexts to relay user feedback to the product team. More importantly, support reps and the product teams can feel confident they're helping each other leverage user feedback effectively and good ideas aren't falling through the cracks.
You can create a new feedback ticket for your product team to review or you can "+1" a user to an existing idea or story on your roadmap. By aggregating user feedback with Roadmap, you create a segment of users to reach out to for more feedback and are able to follow up with them once there's progress on that idea.
What We Learned
Originally we wanted to build a more robust integration using OAuth instead of the way we ended up building the integration which used webhooks.
Get It
The Roadmap & Intercom integration is live and can be accessed from your Roadmap account in Settings.
Check out this link to learn more about the Intercom integration for product roadmaps and let us know if you have feedback!